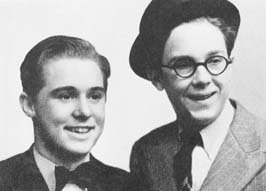 One of the most famous comedians of this century, part of the dynamic duo Morecambe & Wise was born and raised in Morecambe....
Eric Morecambe (The Statue) in Morecambe Bay
From a working class background John Eric Bartholomew (later to call himself Eric Morecambe after the Town) was born on 14th May 1926 . His Mother and Father, Sadie and George Bartholomew met at a dance at the Winter Gardens in Morecambe and it was love at first sight. George used to hold a job on the Lancaster Market while Sadie soon became a very important part in the development and progress of her sons career.
Just as it was with Eric and Joan in years to come when they were married on 11th December 1952 a partnership that would pass the test of time.
In his early teens Eric spent a lot of his free time fishing. His Father would take him to Morecambe beach and teach him how to set 'Trot Lines', a service of lines suspended between poles. They'd catch: cod, plaice, flukes or anything. He also went rod fishing from the once pier and from boats.
Little known Eric has written a best selling fishing book called 'Eric Morecambe on Fishing' (Pelham Books 1984). He has enjoyed many a thoughtful day fishing for trout on the River Test in Hampshire, although the fish he caught would more likely be given to friends. Eric always had a soft spot for shellfish: mussels, cockles and a favourite 'Morecambe Bay Shrimps' from the Trawl Shop, which sells the freshest and tastiest straight from the sea.
In 1939 Eric aged 13, received a child entertainment licence from Morecambe and Heysham authorities.
He won a talent competition organised by the 'Melody Maker', successfully shinning though over 100 other competitors. This talented young comedian was heading for bigger and better things.
When interviewed he said 'My ambition is to become a comedian. My hero is George Formby, another native of Lancashire. I would certainly like to follow in his footsteps.'
But there would be no leaning on a lamp post for Eric!
Eric met Ernie in their teens and struck up a quite remarkable and long lasting relationship.
Sadie played an important part organising the gigs and digs and generally keeping an eye on the boys.
At eighteen they were called up for national service and were separated. Ernie with the Merchant Navy, working on coasters, while Eric was a Bevin Boy, working down a coal mine in Accrington. After nearly a year Eric returned home, his health was not the same it was 11 months earlier, perhaps the first sign of heart problems.
In the early forties Eric bumped into Ernie in the street on day, quite by accident and decided to team up again. Eric's mum still playing a vital role managing the two, through the good and the bad. By 1949 they were rising stars.
in 1950 they signed up with Frank Pope, who booked them in the number one variety theatres 'Moss Empire Theatres' working 6 days a week. Summer shows, Variety, Pantos, they experienced them all.
---
Television soon became a media for mass audiences.
Taking an observation from Laural and Hardy, Eric's screen hero's, he soon learned you could create outrageous, uncontrollable laughter by simple looking into the camera with a blank, bemused look on his face... you know the one!
The Morecambe and Wise TV show was a tremendous success - good, clean, harmless fun. Stars were queuing up at the door to be a guest. Some in Ernies plays, the ones 'What he wrote'. Names like: Glenda Jackson, Robert Morley, Diana Rigg, Cliff Richard, Vincent Price, Peter Cushing, Eric Porter, David Dimbleby, Michael Caine etc., etc... and who was that harmonica player at the end of the show and did he ever manage to play a tune... not now, not now!
| | |
| --- | --- |
| | The duo would stand in front of the curtain, talking to the audience and a hand would appear from the opening in the curtain and strangle Eric (actually his own hand). |
Ed Sullivan had seen the duo on the London Palladium and invited them to appear on his show in New York. They appeared on 3 consecutive shows. At that time each show was viewed by fifty three million Americans. Eric and Ernie were to enjoy regular visits to the states between 1964 & 1968.
The now famous Christmas show, first transmitted in 1977 earned a place in the Guiness Book of Records by achieving twenty eight million viewers.
To quote a congratulations letter from Michael Grade, deputy controller of entertainment programs at London Weekend:
---

"Dear Eric & Ernie

What can I say?, it was absolutely, wasn't it? I mean compared to the last one it was just, well. I mean, everybody says the same thing.

In every department the show was just, you know.

In real terms, I can't put it off any longer the Christmas Show was absolutely. I just have to admit it.

Yours

Michael Grade (a legend in his own mind)

PS It really was a fantastic show.

---
---
Charity Work and a Sporting Goal!
Eric had a keen interest in football and played a vital role in putting 'Luton Town FC' on the map. One episode of the Morecambe & Wise show, he had Glenda Jackson wear a banner reading 'Luton Town FC' about twenty million viewers saw that episode, not to mention how many people have seen the repeats.
Cough.. Arsenal... who said that?!
Eric became a director in 1970 and in 1974 the club achieved division one status. While Eric enjoyed watching football with his son and played an important part in fund raising for the club, including personal appearances etc. In 1977 he resigned as a director and became vice-president. This meant he could play the celebrity and release him from the boardroom and financial responsibilities.
Eric was also a keen photographer and bird watcher (the feathered kind!) and lent his name to various RSPB schemes.
Eric holds the record for three consecutive seasons as president of The Lord's Taverners Charity. HRH the Prince of Wales honoured them as the first ever president and HRH Prince Philip holds the honorary title of twelfth man.
In July 1977 Eric was presented with an Honorary Degree from Princess Alexandra by The University of Lancaster.
A treasured possession of personal achievement...

Just the one for me thanks!
---
My Personal Memories of the Dynamic Duo
In the mid sixties Eric and Ernie played at a charity cricket match at Sowerby Park at Bridlington East Yorkshire. Eric was dressed a bit like Zorro, with the cape, mask and everything. When they hit the ball and went for a run, the two looped arms half way down the wicket and spun around and then continued. The fielders would throw the ball deliberately too hard or let it slip by them so the magnificent two could continue with their outrageous antics.
I was aged about nine at the time and I laughed so much I wet my pants. It's probably one of the most funny things I've ever seen. By the time I had walked home from the park, my pants had dried. When I think back, it always brings a smile to my face.
I don't think there's anyone in the UK that hasn't been touched by Eric and Ernies love and humour and made the quality of life a little richer for everyone.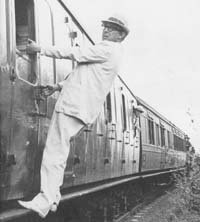 The Magnificent 2
I saw the film at the age of 11 and there are two scenes that always stand out. Firstly the two as Action Man salesmen, setting up a mock battle from their suitcase. Little did they know a revolution was taking place around them. The Action Men really did get shot to pieces (As a boy who only had one Action Man, I was both excited and envious of the scene... Should there be a RSPCA 'Royal Society for Prevention of Cruelty to Action Man')
The other scene was when hundreds of beautiful and curvaceous women soldiers attacked the Fort in their 'Bras and Knickers'. OK so I was a very impressionable young boy!
---
FILMS and More...
Television and Films played an enjoyable part of the duo's career.
Eric always played the nieve and gullible one, with an eye for the ladies. While Ernie always took advantage and turned a situation to his benefit, particularly with the ladies. Not bad for someone with 'Short Fat & Hairy Legs' that just might be wearing a wig!?
Who's short fat and hairy then...

...Don't let the rug slip!!!
The way Eric would wobble his glasses from behind his ear, or place both his hands on Ernies shoulders and slap his cheeks, or the silly departing dance routine as their TV show ended.

'Bring me sunshine, give me laughter through the years' a quotation from their theme tune and they certainly brought both. I have a nine year old son who enjoys watching the repeats of the Morecambe & Wise show and perhaps his children will too... so timeless is their humour.

Eric's keyboard mastery with 'Aundre Preview'... All the right notes but not necessarily in the right order (We're talking wet trousers again!)
---
The Real Eric
Did anyone really know Eric Morecambe? I think his wife Joan probably has the answer. She has written a book called 'Morecambe and Wife' and I quote "I cried buckets when he died. Later I thought: Why am I so upset when he had been such an absolute perisher al his days? It was true. He had been a horror to live with, quite untrainable, but everyone admired him because he was such a character - a real hundred per-center"
Eric collapsed and died in 1984 after appearing in a Sunday concert
---
I will never forget Eric and when I watch the TV repeats, It's as if he were still alive...
Eric ... Just the one for me thanks!
---
Buy these books
from the links above

Two good books to find out more about Eric Morecambe, the Farther, Husband, Sportsman, The Hero!

The Illustrated Morecambe
by Gary Morecambe

Published by
Queen Anne Press

and

Morecambe and Wife by Joan Morecambe

Published by
Pelham Books
---