Thanks for visiting the online community for Morecambe.
If you are seeing this message then below is the old Morecambe website.
This will be under construction for the next few months so do check back and keep an eye on our
homepage
for the latest changes.
........
Brilliant sculptor Graham Ibbeson has designed a
seven foot high bronze of the great man which
will stand proudly erect at Southampton.

........
Benny fans can now buy a handsome 11-inch cold-cast bronze version.
People readers get them for £5 off - £90 (plus £10 p&p)
(To recieve your discount enter 'Ernie and he drove the fastest milkvan in the west' in the where did you here about us section and although the price will still say £95 you will only be charged £90+p&p)
money from each sale goes towards construction costs.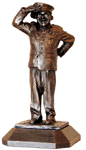 Click Here
to order your Benny Hill statue